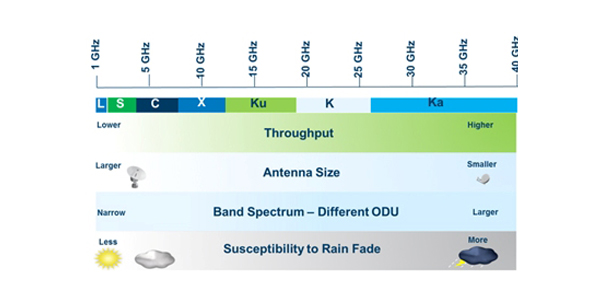 When making decision about buying satellite communications services, organizations find it confusing to decide between the Ku and Ka band. Ku-band dominated the aeronautical mobile satellite systems (AMSS) broadband market has been established as the main spectrum used for mobility networks and Ku satellites use continental scale wide beams. On the other hand, the comparatively newer Ka-band systems coming onto the market claim to deliver significantly greater throughput than the Ku-band offerings.
This made people conclude that with the increased capacity of the Ka-band, it should be an advancement of Ku-band. But, is sit really the case, is Ka band the Ku band killer? Let's find out with a quick comparison of the two:
Unused spectrum: Unlike lower frequencies Ku and C band, Ka-band satellite services are not yet heavily subscribed. This unused spectrum is the USP and together with the use of multiple spot beams allows for higher frequency reuse, thus multiplying the data throughput that can be achieved. Basically, frequency re-use is the ability to utilize the same frequency band multiple times in any given geographic location. Also, these beams cover a small area with little overlap; providers can re-use frequencies in each individual beam to offer greater total capacity, that too without the need to increase allocated bandwidth. Another major selling point is that spot beams can be aimed wherever required. On the negative aspect, multiple spot beams can lead to operational problems.
More bandwidth = affordable service: There will be more available bandwidth with Ka-band. More bandwidth is necessary for implementing and operating data-intensive applications such as remote IT solutions, enterprise resource planning systems and video conferencing. The potential for Ka-band to drive efficiency as well as operational savings across array of areas of the business is noteworthy when measuring the ROI from installing a new satellite system.
Less interference: When talking about interference, Ka-band is superior to Ku-band. This is because Ku-band satellites are often spaced as little as two degrees apart from one another and antennas have to be designed in a way that they don't transmit to non-target satellites. Ka-band satellites are less susceptible to adjacent satellite interference (ASI) as the satellites are positioned further apart.
Cheaper installations/antennas: Generally, as frequency bands increases, antenna sizes go down. It is estimated that a Ka-band antenna will be approx half the cost of Ku-band satellite, while occupying a much smaller footprint. Ku-band antennas are more complex to install and vessels will need to be dry-docked before a system can be installed. Ka-band systems on the other hand, will be smaller in size, cheaper, quicker and easier to install, resulting in a lower overall CAPEX.
Lack of backup: Multiple satellite operators are available in Ku band world. So, if something goes wrong finding a backup is not an issue.
Rain fade: Rain absorbs any radio frequency above 11 GHz. The Ka-band frequency ranges between 26-40 GHz, so there is more signal degradation or fade than other technologies. Ku-band on the other band, is in the 12-18 GHz frequency range, it is also vulnerable to rain fade, but less so than Ka-band.
So, decide yourself or get in contact with us now to discuss your needs and let us help you choose the best.