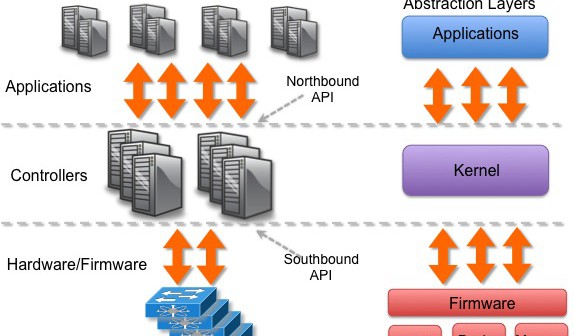 The key advantage of Software Defined Networking (SDN) is that it decreases the price of establishing and operating complicated network infrastructures.
Also, SDN is known to provide improved network efficiency and better resource utilization, SDN ensures the interesting opportunity of fully commoditized hardware. The way conventional virtualization has marked the begging of fully interoperable, low cost systems in the server farm, SDN will allow the enterprise to cut its reliance on customized network architecture in support of a mix and match method in which value rather than concord with legacy systems, becomes the key criterion for development.
The popularity of commodity networking is especially very high, amongst the supporters of the OpenFlow protocol. Pic8, one of the latest additions in the rapidly growing SDN market, some time back announced a new SDN reference architecture to be used by network hardware manufacturers to develop ONF-compatible systems. The step is looked as a direct challenge to Juniper, Cisco and others in that it brings the new opportunities for a huge range of economical devices to make their way into what have usually been single-vendor installations. Simultaneously, it matches current ONF platforms from Nicira, Big Switch and many more who are building on the OpenFlow protocol.
But, is this all about it? Simply set up an OpenFlow SDN layer and then take all hardware choices? Not actually, as per the large network vendors. Networking is not like storage or data processing where systems have a comparatively simple task of communicating with one another. Modern network topologies, including the virtual ones, need to be carefully balanced to maintain effective connectivity, a need that has only become more critical as data environment becomes more dynamic.
This is one of the reasons both Cisco and Juniper are following integrated hardware/software networking environments. They say that this allows hardware as well as software to be optimized for specified functions- hardware for simple tasks like packet processing and software for higher-order responsibilities like network pathway configuration- while guaranteeing a greater level of support that should make both network set up and operations easier and cheaper.
However, there is one more side to it. Others say that this is unnecessary and that OpenFlow alone is completely capable of increasing its reach over both hardware and software in order to set up a more efficient network. For one, Big Switch says that this will avoid the unnecessary requirement of having separate network management interfaces- one for software and another for hardware-allowing operators to rapidly pinpoint, isolate and rectify problems. Indeed, ONF control over physical switches is the only practical method to set up SDN in environments that have yet to be virtualized, which includes much of the task required infrastructure at most large corporations.
So, what is correct? Possibly both, as there is no correct or incorrect method to build network infrastructure. Each enterprise will have to think about its requirements and consider which method will efficiently help them meet both short-term and long-term IT strategy.
Ultimately, it is all a matter of trust. Do you trust the leading network providers to take you into a strange future or have the start-up made their case that a new era needs new approaches?