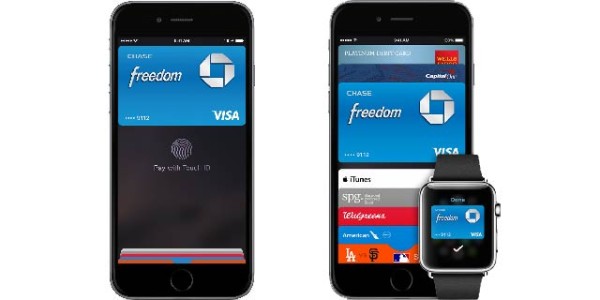 Mobile payments are not a new concept, however, all the attempts made to kill the wallet prior to Apple Pay have failed.Apple Pay is to be made available for anyone to use, Apply Pay change show you make payment with advanced contact less technology and exceptional security features built just in the devices that you use everyday.You can use your iPhone, iPad or Apple Watch to pay in a secure, simple and confidential way.
But, you can't just walk to a retail store and show your iPhone and take whatever you want, remember this would be theft. You will need to have following things to experience a nice Apple Pay experience.
Hardware: iPhone 6 or 6 Plus for retail, iPad Air 2 or mini 3 or iPhone 6 or 6 Plus for in app transactions
Software: iOS 8.1
A debit or credit card from one of Apple's payment partners
Touch ID set up on your device with at least one stored fingerprint
An iCloud account
Once all these are in place, you can chose either to use the cards you have on file in iTunes to pay or add a new one. Adding a new card is simple and straightforward. You can either enter all the information manually, or just click the picture of your card, and enter the CCV security code. If the card is compatible and gets verified, you can use it to make the payments, in case not, you would have to call your bank for support.
If you will be using the card that is already on file, you will just need to enter the security code available on the back to authorize for use and agree to Apple Pay Terms of Service. Once all this is done, you are ready to use Apple Pay to make the payments.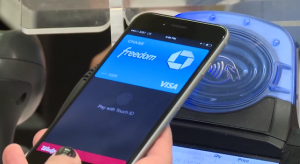 To make payment with iPhone using Apple Pay, all you need is a touch. No need to open an app or wake your phone's display, just hold your iPhone near the contact less reader with your finger on Touch ID. All this is possible due to the great novel of Near Field Communication (NFC) antenna in iPhone 6. You don't have to look at the screen to check if the payment was successfully completed;a subtle vibration and beep will alert you.
In case you lose your device, protecting your account is straightforward:If your iPad or iPhoneis ever stolen or lost, you can use Find My iPhone to quickly put your device in Lost Mode to discontinue use of Apple Pay, or you can wipe your device remotely. Your purchases are also kept private, because Apple doesn't save your transaction information. Only details of your most recent payments are kept in Passbook for your convenience.
Large retailers such as Wal-Mart, CVS and Target have partnered in other to fight the dominance and gain independence from the considerable transaction fees paid to credit card providers, namely Visa, MasterCard and Amex. They have founded Current C, a wallet alternative to Apple Pay using as well NFC technology.
To date Apple Pay has proven to be a success while Current C has suffered technical glitches. Current C is also facing a trust issue after the credit card security hacked of its main partner: Target. The question is, which of the two will become the future payment standard?